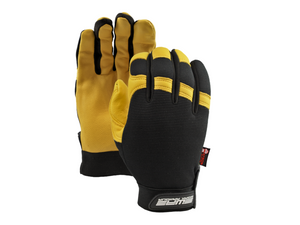 Watson Gloves - Flextime Leather Workshop Glove
Regular price £16.95 Sale
Workshop gloves can be difficult.  

For anything oily I tend to opt for a disposable nitrile glove.  They're great at protecting your skin from fluids, but don't last that long and offer no protection for heavier duty jobs.  I had started using old worn out mountain bike gloves as I found these offered about the right level of protection whilst still being thin enough to "feel" through.
These Flextime gloves from Watson blend the leather palm and knuckle protection from a traditional leather glove, with the flexible material outer from a MX/MTB glove. These are now my go to favourite for the workshop and heavier jobs in the garden. So much so that we now have a winter thermal version of this glove - available here.
For gardening too: Although we've called these a workshop glove, they are equally at home in the garden.  In fact The Independent newspaper recently rated them "an absolute dream" for gardening.  You can read the review here.  
Durability + wear: At this price point a leather glove is durable, but not indestructible.  Leather does soften when wet and is more susceptible to wear and tear when it is.  I avoid using a leather glove when it's really wet in the garden.  If they do get wet avoid force drying them on a radiator as they will go extremely dry and rigid.  Regular treatment with a leather oil or wax will improve their water resistance and longevity.
Sizing:
Watson also do a Women's fit version of this glove. The Women's fit has a slightly longer finger length to palm width ratio and Louise definitely prefers the women's fit to the mens. However, it does come down to your personal hand size. 
For sizing information we recommend you download the Watson

size guide for Mens or here for Women's.  When printed out this allows you to physically work out your correct size.