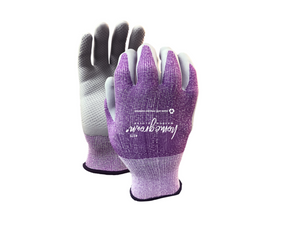 Watson Gloves - Karma Women's Gardening Glove
Sometimes you want a light weight gardening glove - you don't want anything too heavy duty. 
We reckon the Watson Karma is the perfect light gardening glove (if you're looking for a heavier duty one, check out our Perfect Ten gloves instead). As well as fitting like a dream and being really comfortable, they are eco-friendly as they're made from recycled water bottles. 


Eco-credentials: What really attracted us to these Karma gloves is the fact they are made out of a yarn called Waste Not.  Waste Not is a recycled polyester yarn made from recycled plastic bottles (PET). Each glove contains the equivalent of a 500ml PET bottle. That just makes a lot of sense to us.
Watson's are the first glove company to successfully bring recycled gloves to the market with their innovative WasteNot™ gloves. The WasteNot™ yarn is certified by the Global Recycled Standard, which validates recycled fibre content claims and composition. The process starts with the collection of recycled PET bottles. These are first ground into tiny chips, they are then melted and compressed into small pellets, before being spun into high-quality polyester WasteNot™ yarn.
According to Watson's, these gloves will fully degrade in 5 years (in 'moderate landfill conditions'). This is because the palms are made with eco-conscious biodegradable nitrile which is engineered with Reclaim™ technology. This is an additive which accelerates biodegradation when the gloves are in landfill conditions and ensures that the gloves don't just break down into smaller pieces but are actually converted to biogas like other organic materials (creating a circular economy).
It's also good to know that Watson's say these gloves are 'good' for the environment because they have 'Oeko-Tex Standard 100 certification' – which means the fabric has been tested and certified to be free from harmful levels of more than 100 substances.
Fit: They're a seamless knit design which means they are a really close fit and the cuff doesn't slip down.  We've tested and worn them a lot and trust us - they are really comfortable!

Sizing: There are two versions of this gardening glove from Watson - this is the women's version - called the 'karma', and the men's version is called the 'hero'.*  What makes it a women's version?  The sizing is slightly different with the fingers being slightly longer in ratio to the palm.  Of course - if you have shorter fingers, prefer a 'mans' fit or to have a grey pair, then check out the Hero version.
Function: The palm is a foam nitrile in a diamond pattern.  The grip levels are good in the wet and the palm stays completely flexible.
For sizing information we recommend you download the Watson size template here. When printed out this allows you to physically work out your correct size.
* Yes, we know these names, and the fact that the women's glove is in purple and the men's is in grey, is incredibly old school thinking. And no, we don't like it. But the gloves really are great - to use and for the environment - so their sustainability story really did win us over.