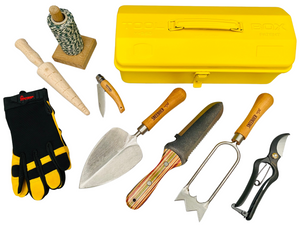 The Ultimate Gardening Kit
Regular price £325.00 Sale
RHS Chelsea Garden Show is the world's greatest flower show – with its stunning garden and flower displays never failing to inspire, spark conversation and create desire for plants that 'must' make their way into our gardens! We've visited a few times and enjoyed seeing the variety of different garden designs and plants up close. And taking part in the inevitable debate about which garden is our favourite, and whether or not we could steal or replicate any of the ideas - without having the required talent or budget of the Chelsea garden creators! 
The giving of awards is always fascinating – to see which garden has won Gold from the judges and which wins the 'people's choice award'.  So, in homage to Chelsea, we've created our own 'Ultimate Gardening Kit'. Which includes the tools that we reckon underpin the Chelsea flower show ethos:
They are the best of the best from around the world – Japanese Secateurs and tool box from Niwaki, gardening tools hand made in the Netherlands by Sneeboer, a French garden penknife from Opinel, gloves from Canada, as well as German made string and dibber.
They all look beautiful – especially our Skatewood Hori-Hori – which, like many of the plants you see on show at Chelsea, are even more stunning when you see them up close.
And they have all been carefully selected to perfectly complement each other – a 'must-have' collection that together add up to ultimate garden kit (which would make a rather lovely gift for the gardener in your life, or as a treat for yourself!)
Will the tools in our Ultimate Gardening Kit help you to have an award-winning garden? In all honesty, probably not. But they will help you to enjoy planting up and maintaining your garden. And we know, having used them all and from feedback from other customers, that this selection of tools and kit would most likely win the 'people's choice award' for go-to gardening tool favourites!
The Ultimate Gardening Kit includes the following: 
To find out about each of these tools, click on them to read more about why we rate them. Individually, they are excellent. Together, they might just comprise an award-winning collection of gardening tools.