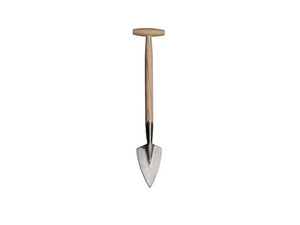 Sneeboer Perennial Spade
Regular price £67.95 Sale
The Sneeboer Perennial Spade is primarily designed to divide shrubs and perennials.  As such it has a flat blade head to slice through clumps.
It's often confused with the Sneeboer Planting Spade, which looks very similar but has a concave head designed to move soil whilst digging.
The Perennial Spade is 59cm long with a head thats 16cm long and 9 cm wide.
The handle is made from Ash and it has an overall weight of 540 grams.
A must if you regularly need to split perennials but can also be a useful weeding tool in tight spaces and borders.
Why invest in Sneeboer garden tools?
Quite simply, they are high quality hand forged gardening tools that'll last a lifetime. Read our blog to find out more...