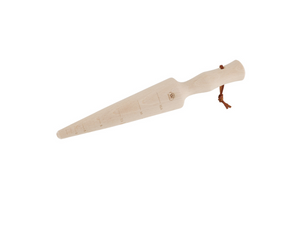 Redecker Garden Dibber
Garden 'Dibbers' are a gardening staple for making planting holes for seedlings and bulbs. 
We use our garden Dibber in the spring and summer for planting out seedlings, as well as in the Autumn for planting out bulbs of all sizes. 
Turned from solid Beech, this Redecker Dibber is great quality - meaning it'll be a trusted planting companion for many years in the garden.
It has depth markers on the side to help with getting your planting depth correct. 
It's 24 cm long and is tapered along its length to help create thee perfect hole. They work best in soft or wet soil as they form a hole by compressing the soil. 
It's comfortable in the hand as it's been well shaped, and it has a leather tie for hanging it up when not in use. 
You can either buy our Garden Dibber by itself, or as part of our 'Wooden Planting Companion Set.'