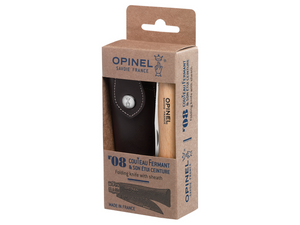 Opinel No 8 Knife & Pouch Gift Set
Regular price £27.95 Sale
My parents bought me my first pen knife when I was around 6 years old.  Probably too young if I'm honest as I learn't knife handling skills the hard way and via two cut palms.  Cleaning mud off a blade with your hands isn't recommended.  Since then I've always had a pen knife in the car, around the house or in the garage.  When you are a tinkerer you appreciate the simplicity of a good pen knife.
I first noticed Opinel on a camping trip in France - when every Frenchmen seemed to be using one to cut his bread and cheese at various picnic spots.  Louise bought me a Walnut handled No 6 on that trip and its grown to be one of my favourite knives (and I've got quite a few..)
Opinel are still made in the Savoie region of France and have been making them there since 1890.  Originally sold as a working persons knife, the design and manufacturing process has changed little over the years.
Their marketing material describes them as - simple, robust and functional.  Enough said and no wonder they appeal to me!
This gift set includes their No 8 Stainless knife and a synthetic leather sheath.
The blade is 8.5 cm and the handle is made from varnished beech.
A really nice gift for anybody.
You must be 18 years or older to purchase this bladed item.
Your age will be verified automatically using a service run by AgeChecked Ltd.  More information about these checks can be found here.
We recommend that you purchase this item via a Paypal Account or Credit Card as this further helps with your 18+ age verification.
As of the 4th April 2022, this item legally requires age verification upon delivery in addition to the age verification upon purchase.  We have included a 'bladed postage fee' into our retail price for all bladed items. You can read more about this here.