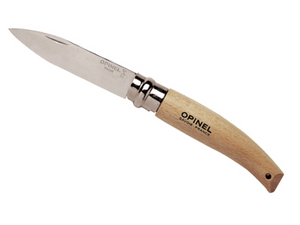 Opinel No.8 Garden Knife
Regular price £14.95 Sale
A pocket knife is amazingly useful around the garden or greenhouse.
We've all been guilty of opening a bag of compost with a pair of secateurs or stabbing away with a trowel.
The Opinel Garden Knife is an evolution of their standard pocket knife.  Its blade shape has been refined for jobs around the garden and is made from stainless steel to handle the likely damp garden conditions better.
Blade length is 8cm and it features Opinels Vibrolock system to hold the blade in place when open.
Varnished Beech handle.
You must be 18 years or older to purchase this bladed item.
Your age will be verified automatically using a service run by AgeChecked Ltd.  More information about these checks can be found here.
We recommend that you purchase this item via a Paypal Account or Credit Card as this further helps with your 18+ age verification.
As of the 4th April 2022, this item legally requires age verification upon delivery in addition to the age verification upon purchase.  We have included a 'bladed postage fee' into our retail price for all bladed items. You can read more about this here.