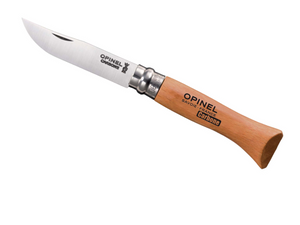 Opinel No 6 Pen Knife Carbon Steel
Regular price £13.50 Sale
My parents bought me my first pen knife when I was around 6 years old. 

This was probably a bit too young if I'm honest and I ended up learning knife handling skills the hard way via two cut palms.  Cleaning mud off a blade with your hands isn't recommended. 
Since then I've always had a penknife in the car, around the house or in the garage.  When you are a tinkerer you appreciate the simplicity of a good penknife.

I first noticed Opinel on a camping trip in France - when all the locals seemed to be using one to cut their bread and cheese at various picnic spots.  Lou bought me a Walnut handled No 6 on that trip and it's grown to be one of my favourite knives (and I've got quite a few..including that infamous first knife).
Opinel are still made in the Savoie region of France and have been making them there since 1890.  The design and manufacturing process has changed little over the years - why would it - if you make something this well, why change?
Their marketing material describes them as - simple, robust and functional.  Enough said and no wonder they appeal to me!
They make six blade sizes in their core range.  We've opted to stock the No 6 which has a 7 cm blade (which is ample for all jobs) and features the Virobloc safety locking ring.  Simply twist this to lock the blade in place.
We initially just stocked the stainless steel version but we've now added the Carbon steel version as well.  This blade material is softer and will hold a sharper edge, but is prone to surface rust if left damp.  Regular maintain with a light oil, such as Camelia oil, will keep it in great condition.
These knives are sold loose - with no form of packaging from Opinel.
You must be 18 years or older to purchase this bladed item.
Your age will be verified automatically using a service run by AgeChecked Ltd.  More information about these checks can be found here.
We recommend that you purchase this item via a Paypal Account or Credit Card as this further helps with your 18+ age verification.
As of the 4th April 2022, this item legally requires age verification upon delivery in addition to the age verification upon purchase.  We have included a 'bladed postage fee' into our retail price for all bladed items. You can read more about this here.