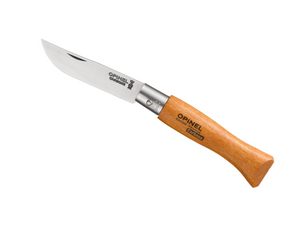 Opinel No 5 Pen Knife - Carbon UK EDC
This is the largest Opinel pen knife without a blade lock, so if you are looking to legally carry a pen knife then this is the one for you.
Carbon steel blade and beech handle.
Blade length is 60mm.  Handle is 80mm.
It's handle is a little small for my liking, but for occasional use or living in a bag then they are great.
You must be 18 years or older to purchase this bladed item.
Your age will be verified automatically using a service run by AgeChecked Ltd.  More information about these checks can be found here.
We recommend that you purchase this item via a Paypal Account or Credit Card as this further helps with your 18+ age verification.
As of the 4th April 2022, this item legally requires age verification upon delivery in addition to the age verification upon purchase.  We have included a 'bladed postage fee' into our retail price for all bladed items. You can read more about this here.