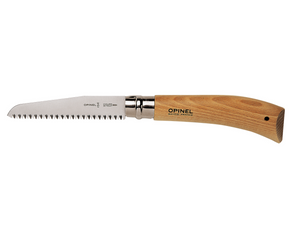 Opinel No 12 Pruning Saw
Regular price £26.95 Sale
Some branches are just too big for secateurs or lopers when pruning.  That's when a pruning saw is useful to achieve a clean cut.
Opinel have opted to go with the Japanese style of pull saw - making it easier to use in tight spaces and when reaching up into a tree or bush.
12 cm blade length.  Made from carbon steel with an anti-corrosion coating to help keep it rust free.  Varnish beech handle.