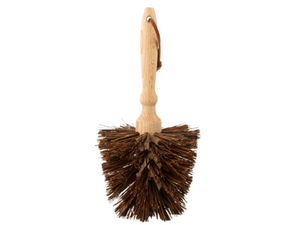 Flowerpot Cleaning Brush
Regular price £12.50 Sale
Whether its terracotta plant pots in the garden or greenhouse - or more decorative pots for house plants, it's always a good idea to give them a thorough clean inside before reusing.
Normal brushes don't handle the shape of the inside of a pot particularly well. This conical flowerpot cleaning brush from Redecker in Germany has been specifically designed for that job. Made using Bassine fibres which are stiff enough to clear soil easily. 
Flowerpot cleaning brush:
Diameter at the tip is 8 cm, sloping to 12 cm. 
The handle is made from oiled Beech. 
Overall length is 25 cm.