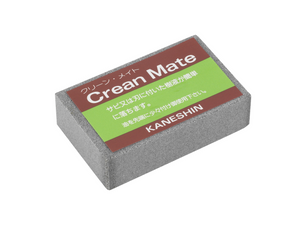 Crean Mate Rust and Sap Eraser
Regular price £15.00 Sale
I was really sceptical of these little rubber blocks when I first used them.  I'm now a complete convert and use them on anything metal that needs a light clean up.
They are a fine grit embedded in a rubber block and are perfect for removing rust and sap from blades, especially secateurs and shears
Dip one end of the block into some water for a few seconds (you don't need to soak it like a wet stone.) Then use the Crean Mate as you would a rubber. It will develop a small amount of slurry that helps clean rust and sap from the surface metal.  It has a fairly rough texture and might scratch polished surfaces, so we suggest testing before use on prize blades.
You can use Crean Mate with oil, rather than water, but I prefer using water.  Once you've switched to oil you'd need to stay with it.
The Crean Mate block is 6.5 x 4.0 x 1.8cm - which seems small but it lasts a really long time.